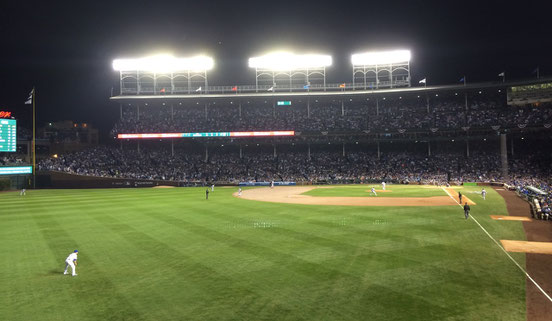 A professional baseball game is a dandy place to experience humanity at it's best…and it's worst. Take the Cubs/Mets playoff game last Wednesday evening at Wrigley...
When my husband, son, and I arrived early enough to watch batting practice, the atmosphere was magical: It was a beautiful, warm evening. A soft breeze blew in from Lake Michigan. Kids (and many adults) wearing mitts vied for the attention of generous outfielders in hopes of getting a ball tossed their way. Onlookers cheered for the lucky ones. Lively organ music added an old-fashioned touch. Even the moon was adding its luster to the proceedings.

I was smitten. How fun! How family-friendly! "This really is the friendly confines," I remarked to my husband, who gave me an indulgent smile. "I can't believe it's been twenty years since I've been to a game." (My husband and son typically attend a couple games during the regular season.) 
Out there on the bleachers, we were surrounded by people in full Cub-fan regalia. I felt like I was peeking in the door of an exclusive club that had plenty of room for more. I was becoming more sentimental by the minute. We'd been handed a small white towel with a big blue W (aka, "the W flag") at the gate. I had it ready to wave.
And then the game—and my education—began.
Top of the first inning:
Drunk fan behind me (DFBM): "I'm so sorry!"
"That's okay," I say good-naturedly, while wiping beer off my shoulder and arm. "I've got my towel." My husband and I grin at each other. 
The Mets score 4 runs.
Bottom of the first inning:
DFBM: "I'm so sorry! Listen, I know exactly how you feel. If I do it again, you can beat the [stuffing] out of me."
Since the Cubs were already down by 4 points, I laugh and say, "Listen, if the Cubs win this game you can pour beer on my head." 

A pause. "Really?"

Top of second inning (4-0, Mets):
DFBM to his equally drunk friend (EDF): "Hammel is throwing [bleeping] meatballs." 
DFBM to the world at large: "Get Hammel the [heck] out of there!"
Father and son (F&S) four rows back: "Let's go Cubbies! Let's go!" (clap-clap)
The Mets score 2 more runs.
Bottom of second inning:
DFBM: "I'm so sorry! I promise I'll never spill beer on you again."
I sigh. He's sweetly contrite. My husband asks if I'd like my raincoat. "I might," I say.
EDF to umpire: "Are you [bleeping] blind?"  (Mind you, we're over 365 feet from home plate…)
DFBM: He's hitting [bleeping] meatballs!
DFBM to hitter: "You [stink!]"
I listen, amazed, at these guys and many other fans around us yelling obscenities at the Mets AND the Cubs. "Why do they do that?" I ask my husband. "Why aren't they more supportive?" He shakes his head and shrugs.
Third inning (6-0, Mets):
EDF to DFBM: "Wood came to put the fire out with his gas can."
I think, Yay! Something positive.
Top of fourth inning (6-0, Mets):
DFBM: "I'm so sorry! I promised I'd never spill beer on you again. Listen, I owe you one." He repeats this several times.
I wave him off. "No problem." My husband places my W flag around my shoulders. 
F&S: "Let's go Cubbies! Let's go!" (clap-clap)
Bottom of the fourth inning: 
Cubs score! We all perk up. The diatribes soften.
Fifth inning (6-1, Mets):
EDF and DFBM on their way to get more beer. Hand on my shoulder. "You want one?"
"No thanks," I say, lifting my water bottle. "I'm good." (When they come back, we lean forward until they are settled.)
Sixth inning (6-1, Mets):
There's an atmosphere of despondency. What happened to our winning team? (We beat the Cardinals, for Pete's sake!)
The vitriol toward both teams increases exponentially. 
Seventh inning stretch:
The magic comes back temporarily while we sing "Take Me Out to the Ballgame." I pull the cloth off my shoulders and sway it back and forth like a banner of hope.
Seventh inning (6-1, Mets):
A DF (in front of us) yells at a Cub outfielder who missed a catch: "[Bleep] you and your [bleeping] glove!"
DFBM to EDF: "This is a microcosm of my life. Just bring me here and take out my heart."
Eighth inning: Both Mets and Cubs score two runs. The energy escalates. We're cautiously hopeful. 
Ninth inning (8-3, Mets): 
EDF is escorted out after nearly (deliberately) pouring his beverage on my son's head. (My son had the audacity to stand up with 99% of the crowd and cheer his team, blocking EDF's view. I had to use my mom voice on EDF, a middle-aged man.)
F&S: "Let's. Go. Cubbies. Let's Go! C'mon people, stand up! Let's go, Cubbies. Let's go!" (clap-clap)
Neither team scores. Final: Mets 8, Cubs 3. 
It was quite a night. In terms of observing the human animal, it was a rich experience. My takeaway is that there is a spectrum of fan support. I may not understand or identify with all the expressions of it, but even the most verbally-abusive fans seem loyal.
I was most impressed by the father and son who remained positive inning after inning. While they didn't have a winning team, they showed unwavering support, sacrificing their vocal chords in support of their beloved Cubbies. In my book, that's a home run. That's the magic of baseball. I wish I could give them a hug and a throat lozenge. Maybe next year…