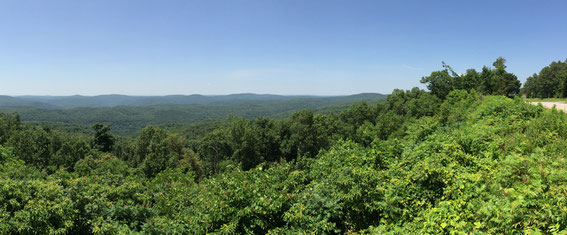 It's July again, the time of year I wax rhapsodic about the sky. I love the mountainous clouds that linger on a calm day, and the intensely blue sky that fades into a softer hue near the horizon. I smile and take deep, satisfied breaths. 
We recently traveled to Arkansas for a family gathering. Indulging my nostalgia, we took the older highways through the Ozark mountains. I was reminded how gorgeous northern Arkansas is, with it's wealth of natural beauty and expansive vistas that fall away from the edge of the road. Those vistas took me back to my childhood. On a particularly steep and winding stretch near Jasper, I looked back and exclaimed, "I remember that view!" 
My Girl Scout troop frequently went camping in state parks. We'd be driven in an old school bus by Mr. Pickett, a nice man who must have heard every campfire song ever written. We'd serenade him as we drove up into the hills, around the hairpin- and snake-curves. I thought about this as my husband navigated a tight switchback at 5 mph. Mr. Pickett must have had nerves of steel.
Seeing my hometown elicited many memories and emotions. Seeing old haunts, old friends, the parking lot next to the college chapel where our house used to be, improvements made to the college—now university—where my father taught, and the town itself that hasn't changed much over the years…  These things forged a renewed connectedness to my past.
We buried my mother's ashes next to my father's grave, closing a thirty-five year gap. My mother had made the most of those years—reinventing herself after being widowed at 56. At the graveside ceremony, loved ones offered words to describe her: generous, loving, gracious, determined, kind. (Words that could equally be applied to my father.)
Under the artwork of summer sky, I reflect on the first July without my mother. She would have been 92 next week. Gazing into the vistas of my heart, I see a woman who left a legacy of love and modeled social consciousness. It is a sweet view.