I love October. It is a month that appeals to all my senses. Outdoors, I revel in the comfortable, dry temperatures (sans mosquitos); the satisfying crunch and rhythm of dry leaves under my feet; the sight of gold, orange, red, and yellow that adorns the trees. I enjoy the contrast of a bright yellow maple against a deep blue sky, and the pleasantly pungent smell of decay as I walk through a forest or tend my sleepy garden.
Indoors, there's the heady aromas and flavors of chili, soup, or stew; the comfy-ness of my favorite sweater; the mug of tea that warms my hands as I sit in contemplation of…anything. It is December now, and most of the leaves have released their trembling grip on the trees that sustained them. They have entered a new phase of being.
A few weeks ago, in October, my 91-year-old mother released her own trembling grip on life, and floated away peacefully on her final breath. She was a giver: a consummate volunteer who found her passion in living a life of service. She was a doer: a life-long activist for social and environmental justice. She embraced diversity; she loved her family and friends.
At her memorial service, my sister read Mom's favorite Bible passage that begins, "To every thing there is a season, and a time to every purpose under heaven," which beautifully sums up life in general. As I, too, enter into a new season, I am grateful for sweet memories of a remarkable woman who profoundly touched the lives of so many, particularly those experiencing the harsher seasons of life.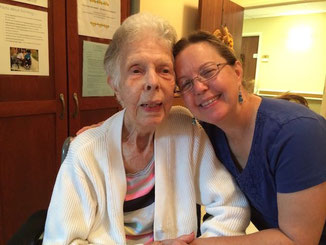 Dorothy Buttler Angell
July 13, 1923 - October 16, 2014