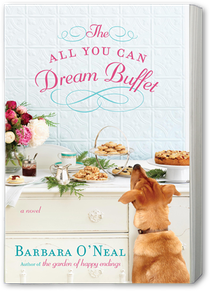 I love cooking as much as I love writing. I find it supremely satisfying to make up recipes, or embellish established ones. I love sauteing onions and garlic with spices like garam masala and cinnamon, and adding the mixture to soup and stews. Or, topping rice pasta with oven-roasted tomatoes, homemade goat cheese, and toasted pecans. The most pleasing dishes have a balance of sweet, salt, bitter, and sour.
Story development is like cooking. You start with the basic idea and begin adding ingredients: three cups of backstory, a heaping tablespoon of longing, a long pour of conflict, a sprinkle of spicy passion. 
One of my favorite writers is Barbara O'Neal, who writes women's fiction that centers around food, gardens, and dogs—all things I love! She's brilliant at character development, compelling premises, and sensory detail. Her stories are balanced and satisfying, leaving the reader wanting extra helpings.
Her latest, THE ALL YOU CAN DREAM BUFFET, centers around four women—all food bloggers—who journey to a lavender farm in the Pacific Northwest. Each is dealing with life changes and personal struggles. There are vintage campers, lovable dogs, delicious food, supportive friendships, and wonderful transformations—all infused with the scent of lavender.
"Coming together will change the Foodie Four in ways they could never have imagined, uniting them in love and a common purpose. As they realize that life doesn't always offer a perfect recipe for happiness, they also discover that the moments worth savoring are flavored with some tears, a few surprises, and generous helping of joy."                       
—From book description on Goodreads.com.
I highly recommend this book. (As a funny aside, my dog Wookie looks exactly like the dog on the cover.)
A few weeks after I read THE ALL YOU CAN DREAM BUFFET, I was inspired to make a chocolate cake. I use a good gluten-free cake mix, and—because I can't help myself—add other ingredients to liven it up. In the past, I'd added a few shakes of cinnamon and the zest of an orange, which was delicious. This time, I also added a little cardamom, culinary lavender, and coffee for the liquid. Thus, I ended up with my gluten-free Chocolate Espresso Cake with Orange Zest and Lavender.
It went from delicious to Oh, baby. (Sweet? check. Salt? check. Bitter? check. Sour? check. YUM.) 
My husband teases me that I can't leave well-enough alone. To which I laugh, and reply, "I like making well-enough better." And that is what writing a story is all about: starting with a good idea and improving upon it. 
Here's to happy cooking!