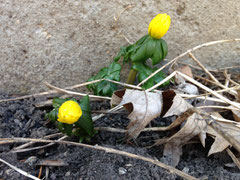 The snow is mostly gone. The slush-mountains have receded to mere dirt-covered humps at the edges of parking lots and roads.

I've been delighted by unexpected discoveries: pure white snowdrops under the spruce tree in the back yard, and bright yellow blossoms of winter aconite on the north side of our home. Both began emerging under the snow.  
I love surprises. And I love how the frozen ground responds to the strength of the spring sun. I'm convinced that snow acts both as a blanket and a conductor of light and energy. Cold weather lingers in our area, but once the temps stay above freezing, bulbs and buds are going to surge forth in an explosion of green and bloom.
Ideas are like that, aren't they? Tiny bulbs quietly resting, waiting to be warmed by the light of our imagination. Life pulses inside...and at the right moment awakens and pushes up through our consciousness. 
In my experience, giving ideas time to develop is crucial. As a friend once said, "Everything has a rhythm." I agree. When the time is right, those ideas emerge with a whole new identity. 
"Under the giving snow blossoms a daring spring."  ~Terri Guillemets
Creativity is all about cycles and rhythms...and the sweetness of finding surprises under the snow.