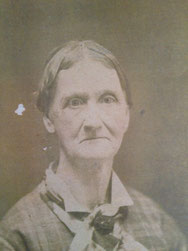 I've been growing my hair out for over a year now. With warm weather arriving, I'm relieved it's long enough to put up in a ponytail or an approximation of a bun. This morning as I reached for my hair-tie and bobby pins (for my bed-head bangs), it occurred to me that this is a classic look that fits into nearly every decade or century. (We'll ignore the eighties…) 
For fun, I grabbed a booklet of geneology on my father's side to view the history of Angell hair. The earliest photo is my great-great-great-great grandmother Angell (circa late 1700's/early 1800's) with a rather severe, slicked down affair. She looks strict, but I'm giving her the benefit of the doubt and believe that she had the Angell sense-of-humor.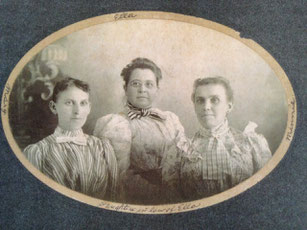 My great-great grandmother, Lodema Sebring Angell, with two daughters-in-law (circa early 1900's) . Clearly they were pleasant, practical types—more interested in ruffles and bows than fancy hairdo's.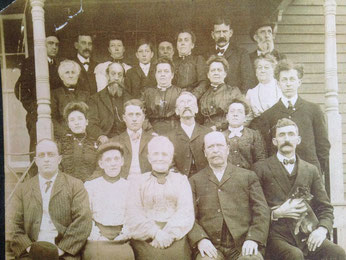 Here's a photo of Lodema (3rd row, second from right) at the Sebring reunion, early 1900's. Nary a bang in sight…and I daresay the men's hairstyles were more adventurous in those days!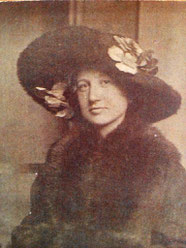 My father's mother, Hazel Baughman Angell, in 1911, age 18. Not sure about the hairstyle, but don't you love her hat?  I must point out that when she died in 1968, her pretty chestnut hair was nearly grey-free.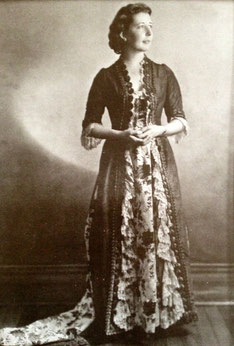 Here is her daughter, my beautiful Aunt Chrystal (Angell) Finley in the 1940's. In this photo, she is modeling a gown worn at Lincoln's Inaugural Ball. Her hair is fixed for the photo, but she always wore her long hair in a french twist until she died. (And she had her mother's chestnut hair, as well.)
I'm jumping ship here to the ancestry on my mother's side. The Mayflower, in fact! My ancestor John Howland landed in Plymouth, followed by his 2 brothers…and now there are thousands of us.  One of his direct descendants is Esther Howland, the famed Mother of the Valentine Industry in America.  This lady had great hair!  Take a moment to check out this nice article (with photo) about her.  http://www.wbur.org/2012/02/14/origin-valentines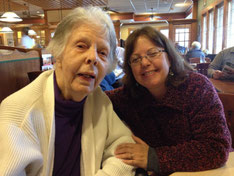 My mother has had beautiful iron grey/white hair—styled in medium layers—since she was in her thirties. She never colored it, and at age 90 her hair is still pretty.  That said, I'm banking on hair genes from my Grandmother Angell!  
(So far, so good…)